Welcome to Lyonshall Nurseries & Garden Centre
Lyonshall Nursery is situated in beautiful Herefordshire countryside close to Mid-Wales. A highly recommended nursery and garden centre in Hereford, Kington, Leominster, Ludlow and Mid-Wales area by gardeners, people who want a great garden, tourists, day trippers and people who love visiting plant nurseries and garden centres.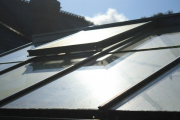 A greenhouse is a real asset in a garden. It can be a beautiful building, for one thing: when the sun glints off the glass of a white-painted greenhouse filled with vibrantly colourful plants it'll always make you smile.
But it's also a wonderful way to expand your gardening beyond all…
Read more »
Top up mulch
Keep a thick mulch of compost or well-rotted manure topped up around your plants, both outside and in the greenhouse. Mulch after watering, so there's already moisture in the soil; and don't pile it against stems or you risk them rotting. A nice thick mulch saves work, reducing weeding to an occasional chore, and your plants will revel in the moist conditions underneath.
Plant of the Week: Hydrangea
There's no summer shrub quite so showy as a hydrangea. Huge, look-at- me flower heads open with effortless elegance in midsummer and come in a choice of shapes to suit all tastes. Creamy 'Annabelle' has frothy panicles like candyfloss cones; lacecaps like smokey-blue 'Mariesii' have dinnerplate-sized flowers with a flattened central cluster surrounded by butterfly-like bracts. Then there are old favourites the mophead hydrangeas with neat, spherical flowerheads the size of melons. Famously, both lacecaps and mopheads turn from pink to blue in acidic soils: you can encourage them by adding a blueing agent to the soil, or growing in containers of ericaceous (acidic) compost.
Lyonshall Nurseries Facebook