Welcome to Lyonshall Nurseries & Garden Centre
Lyonshall Nursery is situated in beautiful Herefordshire countryside close to Mid-Wales. A highly recommended nursery and garden centre in Hereford, Kington, Leominster, Ludlow and Mid-Wales area by gardeners, people who want a great garden, tourists, day trippers and people who love visiting plant nurseries and garden centres.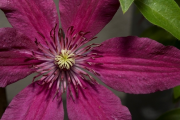 Clematis win a place in the heart of every gardener for their breathtaking flower displays as they scramble becomingly up fences and over trellises. Most varieties are very well-behaved and just need a little tucking in to their supports every so often and an annual prune to keep them performi…
Read more »
Boosting daffodil flowering
If some of your daffodil clumps haven't flowered as well this year, chances are they're getting a little overcrowded. Carefully dig up the whole clump and split it into smaller groups of three or four bulbs each, then replant in new spots in the garden, enriching the soil first with plenty of well-rotted farmyard manure to get them off to a good start: you should have them flowering again from next year onwards.
Lyonshall Nurseries Facebook