Welcome to Lyonshall Nurseries & Garden Centre
Lyonshall Nursery is situated in beautiful Herefordshire countryside close to Mid-Wales. A highly recommended nursery and garden centre in Hereford, Kington, Leominster, Ludlow and Mid-Wales area by gardeners, people who want a great garden, tourists, day trippers and people who love visiting plant nurseries and garden centres.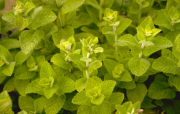 Few plants are as easy-going as herbs. You can pop them in any spare corner and they'll settle in without fuss. Many of the herbs you'll find in our Kington garden centre are evergreen, too, so they'll perform all year without demanding much in return.
But to encourage your herbs t…
Read more »
Slugs in containers
Keep slugs off container-grown plants by placing the pots on bricks set in wide saucers of water. Slugs can't swim, so if you keep the saucers topped up it makes an unbridgeable gap the slimy critters can't cross. And that means they'll go elsewhere, leaving your precious plants alone.
Lyonshall Nurseries Facebook