Welcome to Lyonshall Nurseries & Garden Centre
Lyonshall Nursery is situated in beautiful Herefordshire countryside close to Mid-Wales. A highly recommended nursery and garden centre in Hereford, Kington, Leominster, Ludlow and Mid-Wales area by gardeners, people who want a great garden, tourists, day trippers and people who love visiting plant nurseries and garden centres.
Winter hardy Pansies & Violas grown by us. Available from September - November for colo…
Valid until 30 November 2014
4 packs for £10 - £3.49 each
More information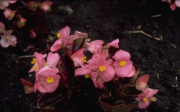 Once the last daffodil has died down, don't let your bulb display stop. Dozens of bulbs flower spectacularly right through summer, keeping you in dazzling flowers until well into autumn.
Plant as you would spring bulbs, burying them to three times their depth in crumbly, moisture-retent…
Read more »
Plant of the Week: Trees
Every tree has its moment of glory: brilliant scarlet autumn colours on Japanese maples, the glowing coppery bark of Tibetan cherries, or clusters of jewel-like berries on rowans.

But the real head-turners are trees with spectacular flowers. Plant Japanese cherries like 'Shirotae' for huge froths of blossom to outshine all others in the spring garden, with the possible exception of flowering magnolias, from waist-high 'Leonard Messel' to tall, stately M. grandiflora. The small dark flowers of the handkerchief tree (Davidia involucrata) are surrounded by huge, droopy white bracts in May, and evergreen Eucryphia x nymansensis 'Nymansay' bursts into papery cupped white flowers soon afterwards.
Get ahead on the shed
Give the shed a coat of wood preservative while it's still fairly dry and warm to protect it through the winter months. While you're at it, mend any loose roofing felt and carry out running repairs: better to do it now, while it's less urgent, before it becomes a midwinter emergency.