Welcome to Lyonshall Nurseries & Garden Centre
Lyonshall Nursery is situated in beautiful Herefordshire countryside close to Mid-Wales. A highly recommended nursery and garden centre in Hereford, Kington, Leominster, Ludlow and Mid-Wales area by gardeners, people who want a great garden, tourists, day trippers and people who love visiting plant nurseries and garden centres.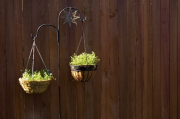 Hanging baskets make a bright splash of colour against a wall or fence, filled with brilliant scarlet pelargoniums or tumbling begonias. But don't just stick to bedding plants this year: try planting baskets which are productive as well as beautiful.
Edible hanging baskets are a great w…
Read more »
Deadheading gladioli
The gladiolus is both a popular summer garden plant, and a flower for cutting. For whichever reason you are growing it, the best plants are kept tidy and productive through regular deadheading. Pick off individual faded blooms, and the cut off flower spikes at the base as soon as they are over.
Lyonshall Nurseries Facebook