Welcome to Lyonshall Nurseries & Garden Centre
Lyonshall Nursery is situated in beautiful Herefordshire countryside close to Mid-Wales. A highly recommended nursery and garden centre in Hereford, Kington, Leominster, Ludlow and Mid-Wales area by gardeners, people who want a great garden, tourists, day trippers and people who love visiting plant nurseries and garden centres.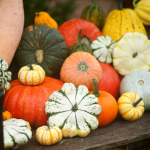 Growing your own food is one of life's great pleasures, and like most good things, it's worth doing well. A great way of measuring your progress is to pit yourself against the old-timers - producers of football-sized onions and metre-long carrots.
It takes courage to exhibit your produc…
Read more »
Hanging basket care
Move your hanging baskets outside now that all danger of frost is gone, but look after them carefully. Water every day, preferably in the morning or evening to avoid losing moisture through evaporation, and don't forget to add feed
Lyonshall Nurseries Facebook