Welcome to Lyonshall Nurseries & Garden Centre
Lyonshall Nursery is situated in beautiful Herefordshire countryside close to Mid-Wales. A highly recommended nursery and garden centre in Hereford, Kington, Leominster, Ludlow and Mid-Wales area by gardeners, people who want a great garden, tourists, day trippers and people who love visiting plant nurseries and garden centres.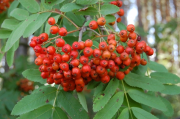 No garden should be without a tree: they add height, structure and a feeling of permanence and timelessness. But if you have a small garden in Kington, it's hard to imagine shoehorning in a tree as well.
Well: that depends on what kind of tree it is. Of course if you plant large trees i…
Read more »
Grit
Give alpine plants on the rockery ; especially spring-flowering types ; a top-dressing of grit. Choose a type of grit that looks appropriate to the colour of the rock on your rockery. A 'mulch' of grit will show off the plants' diminutive blooms. And to stop mud splashing up on to the leaves, flowers and stems, and possible causing plants to rot, make sure you tuck some grit under and around the plants.
Plant of the Week: Herbs
A generous supply of fresh herbs from the kitchen garden is, if anything, even more satisfying than vegetables. Often low-maintenance perennials, herbs are unstintingly prolific, providing as much as you can pick throughout the season to lend their spicy scents to your food.
Mediterranean herbs like rosemary, thyme, sage and marjoram need a hot, dry spot, but there are plenty of other herbs like parsley, mint and fennel which grow anywhere so don't worry if your garden isn't a sun trap. Sow generous containers of annual herbs, too, such as coriander, basil and parsley for aromatic greenery to use in salads and flavourings all year round.
Lyonshall Nurseries Facebook