Welcome to Lyonshall Nurseries & Garden Centre
Lyonshall Nursery is situated in beautiful Herefordshire countryside close to Mid-Wales. A highly recommended nursery and garden centre in Hereford, Kington, Leominster, Ludlow and Mid-Wales area by gardeners, people who want a great garden, tourists, day trippers and people who love visiting plant nurseries and garden centres.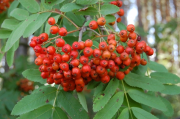 No garden should be without a tree: they add height, structure and a feeling of permanence and timelessness. But if you have a small garden in Kington, it's hard to imagine shoehorning in a tree as well.
Well: that depends on what kind of tree it is. Of course if you plant large trees i…
Read more »
Tuck up your dahlias
Lift your dahlia tubers the moment frost blackens the foliage to protect the tender roots from frost. Trim back tall shoots, shake off excess soil and pack in dry compost to wait out the winter in a frost-free greenhouse or indoors. They'll shoot back up again next spring.
Lyonshall Nurseries Facebook