Welcome to Lyonshall Nurseries & Garden Centre
Lyonshall Nursery is situated in beautiful Herefordshire countryside close to Mid-Wales. A highly recommended nursery and garden centre in Hereford, Kington, Leominster, Ludlow and Mid-Wales area by gardeners, people who want a great garden, tourists, day trippers and people who love visiting plant nurseries and garden centres.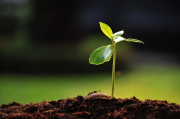 Most vegetables are raised from seed, making them fantastic value – for the price of a single lettuce bought in the shops, you can buy a packet of seed to grow 1000. That's reason enough to grow your own: but you'll find sowing seed is also hugely satisfying as the first tiny sprouts appear…
Read more »
Resting cyclamen
By now, winter pot cyclamen, so popular at Christmas time, will probably have reached the end of their flowering, and they could be looking rather sad. Give them a rest now, by putting them under a greenhouse bench and slowly reducing the watering until the foliage dies down.
Plant of the Week: Phlox
For sheer look-at-me wow factor it's hard to beat a border phlox. Tall and imposing among other flowers, they're the undisputed stars of the midsummer show when bursting into a froth of showy multicoloured blossom with a delicious honey-sweet perfume. Look out for pure white 'David', lovely azure 'Blue Boy' and lilac 'Franz Schubert'.

Give your phlox a rich, moisture-retentive but free-draining soil in part shade. Taller varieties are best staked – get your supports in place around now and they'll disappear among the foliage. Or grow more compact varieties like the 'Flame' series in shades from light pink to deep purple - also good for containers.
Lyonshall Nurseries Facebook