Welcome to Lyonshall Nurseries & Garden Centre
Lyonshall Nursery is situated in beautiful Herefordshire countryside close to Mid-Wales. A highly recommended nursery and garden centre in Hereford, Kington, Leominster, Ludlow and Mid-Wales area by gardeners, people who want a great garden, tourists, day trippers and people who love visiting plant nurseries and garden centres.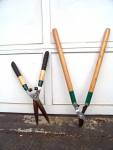 Gardeners demand a lot of pruning tools, especially in winter when there are roses, clematis, apple trees and fruit bushes to do. There are other cutting tools in regular use, too: hedging and topiary shears, and blades you might not think of as blades like hoes and border spades, both of whic…
Read more »
Neaten jasmine
Neaten up summer jasmine to keep them within bounds and encourage lots of deliciously-scented pure white flowers later this year. Remove weak, dead and damaged shoots, then thin overgrown plants by removing some of the older branches completely either at ground level or where they meet the main stems. Finally, tie the stems back into their supports to train them where you want them to go.
Plant of the Week: Primrose
This diminutive little trooper gets its name from the Latin for 'first to flower' – and every year the first primroses to unfurl deliver their message that spring is just around the corner.
Wild primroses – Primula vulgaris – are expert at colonising wild patches on banks and under hedges and a must-have in wildlife gardens for their early nectar. But the primrose family also offers vibrant colours from orange to red and magenta: bedding primroses and multi-flowered polyanthus are brilliant at filling pots and baskets with cheerfulness at this time of year. Try partnering them with snowdrops, crocuses and early-flowering narcissi like 'February Gold' for a real early spring pick-me-up.
Lyonshall Nurseries Facebook