Welcome to Lyonshall Nurseries & Garden Centre
Lyonshall Nursery is situated in beautiful Herefordshire countryside close to Mid-Wales. A highly recommended nursery and garden centre in Hereford, Kington, Leominster, Ludlow and Mid-Wales area by gardeners, people who want a great garden, tourists, day trippers and people who love visiting plant nurseries and garden centres.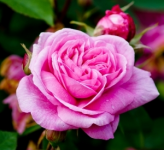 Britain's best-loved flower, roses are found in almost every garden in the country especially in Kington. And it's little wonder: they're elegant, stately plants that just take your breath away as soon as they flower, with those heartbreakingly beautiful petals and perfume to fill the garden a…
Read more »
Lifting vegetables
Lifting vegetables; you may have eaten most of your crop of potatoes, but if there are still some in the ground, they should be lifted now and stored for winter use. Autumn frosts and rain will ruin them if they are left in the ground. Dig them up with a fork, separate the potatoes, and leave them on the surface for a couple of hours to dry off. They should be stored in a damp, dry, and frost-proof place.
Plant of the Week: Ornamental grasses
Prairie-style planting is all the rage just lately and is a gorgeous way to combine stunningly beautiful, natural-looking perennials like achilleas, salvias and rudbeckias with graceful grasses for a low-maintenance and dynamic display which reaches its crescendo in late summer.

It's a fantastic way to show off grasses at their best: after flowering, many grasses including miscanthus, tall stately Calamagrostis x acutiflora 'Karl Foerster' and Stipa tenuissima hold their seedheads into winter and look fabulous rimed in frost. Leave them all winter then trim them to the ground, along with the perennials growing alongside, in early spring before they burst into life and start the spectacle all over again.
Lyonshall Nurseries Facebook