Welcome to Lyonshall Nurseries & Garden Centre
Lyonshall Nursery is situated in beautiful Herefordshire countryside close to Mid-Wales. A highly recommended nursery and garden centre in Hereford, Kington, Leominster, Ludlow and Mid-Wales area by gardeners, people who want a great garden, tourists, day trippers and people who love visiting plant nurseries and garden centres.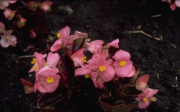 Once the last daffodil has died down, don't let your bulb display stop. Dozens of bulbs flower spectacularly right through summer, keeping you in dazzling flowers until well into autumn.
Plant as you would spring bulbs, burying them to three times their depth in crumbly, moisture-retent…
Read more »
Clear those borders
Clear away annual summer bedding, compost and dig over the ground to disturb weeds so they get hit by frosts, it also will help expose some soil borne diseases too to harsh weather and kill them off. ;
Plant of the Week: Conifers
Super-reliable, versatile and easy-going, conifers are a great choice for all styles of garden. Whether it's clipped yew setting off formal herbaceous borders, minimalist needlepoint spears of Italian cypress marching through contemporary gardens, or a cone-bearing pine to provide food and shelter for wildlife, there's a conifer to suit you.

Not all are evergreen, or even have needles. The lovely maidenhair tree, Ginkgo biloba, has curious fan-shaped leaves which turn butter yellow before they fall in autumn. Others display extraordinary colours, like Korean fir with its steely-blue cones. Get to know this amazing family of plants and you could find yourself pleasantly surprised.
Lyonshall Nurseries Facebook