Welcome to Lyonshall Nurseries & Garden Centre
Lyonshall Nursery is situated in beautiful Herefordshire countryside close to Mid-Wales. A highly recommended nursery and garden centre in Hereford, Kington, Leominster, Ludlow and Mid-Wales area by gardeners, people who want a great garden, tourists, day trippers and people who love visiting plant nurseries and garden centres.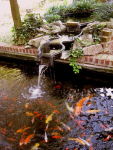 You don't need to have masses of space to enjoy the beauty and movement of a water feature. Even if all you've got is a patio in Kington, you can still have a pond: just build one in a half-barrel container.
You'll find rustic half-barrels available year-round at our garden centre. One…
Read more »
Mulching roses
Unless you have already done this (perhaps when the roses were pruned in February or March), now is a good time to mulch around roses ; and other shrubs as well. A 3in (8cm) layer of well-rotted compost or animal manure will feed the soil and help prevent weeds ; but watch out for the thorns!
Lyonshall Nurseries Facebook