Welcome to Lyonshall Nurseries & Garden Centre
Lyonshall Nursery is situated in beautiful Herefordshire countryside close to Mid-Wales. A highly recommended nursery and garden centre in Hereford, Kington, Leominster, Ludlow and Mid-Wales area by gardeners, people who want a great garden, tourists, day trippers and people who love visiting plant nurseries and garden centres.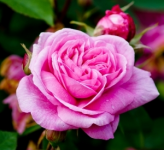 Britain's best-loved flower, roses are found in almost every garden in the country especially in Kington. And it's little wonder: they're elegant, stately plants that just take your breath away as soon as they flower, with those heartbreakingly beautiful petals and perfume to fill the garden a…
Read more »
Love your lawn
Give your lawn a little autumn TLC by raking up the 'thatch' (layer of dead grass) with a spring-tined rake. A vigorous workout now removes all the summer's debris, clears moss and allows air and water through, so your green sward goes into winter in the very best of health.
Lyonshall Nurseries Facebook