Welcome to Lyonshall Nurseries & Garden Centre
Lyonshall Nursery is situated in beautiful Herefordshire countryside close to Mid-Wales. A highly recommended nursery and garden centre in Hereford, Kington, Leominster, Ludlow and Mid-Wales area by gardeners, people who want a great garden, tourists, day trippers and people who love visiting plant nurseries and garden centres.
Winter hardy Pansies & Violas grown by us. Available from September - November for colo…
Valid until 30 November 2014
4 packs for £10 - £3.49 each
More information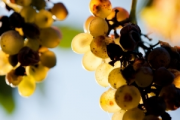 Of all the fruit you can grow in the garden, a grapevine is among the most productive and beautiful. All you need is a sunny wall, fence or pergola for it to scramble up and it'll cheerfully cover the whole thing with big elegant leaves turning brilliant colours in autumn, and of course fat cl…
Read more »
Plant of the Week: Leucothoe
It's not often you find a shrub which offers handsomely arching branches of glossy evergreen leaves turning a deep, handsome red in autumn, plus fragrant white spring blossom - yet this easy-going beauty is not widely grown.

It's a superb choice for tubs and borders where its autumn colouring makes it an eyecatcher late in the season. It does need acid soil to colour up well, so if you don't have a low pH soil in the garden just pop it in a pot of ericaceous compost (available from our garden centre). Team with brilliant yellow-stemmed dogwood 'Flaviramea' and golden-variegated ivy for a spectacularly colourful winter container.
Try growing mushrooms
Have a go at growing mushrooms this autumn