Garden centre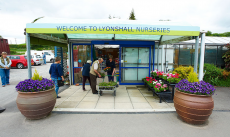 Lyonshall is a family run nursery specialising in seasonal & bedding plants. Our aim is to provide Quality long lasting plants backed up with a friendly service & sound gardening knowledge.
Lyonshall Nursery is situated in beautiful Herefordshire countryside close to Mid-Wales. A highly recommended nursery and garden centre in Hereford, Kington, Leominster, Ludlow and Mid-Wales area by tourists, day trippers and people who love visiting plant nurseries and garden centres.
We hope that a visit to Lyonshall Nursery will inspire you, be relaxing yet stimulating and that you enjoy friendly customer service from our horticulturally trained team. You will find everything you would expect from a modern garden centre together with a refreshingly traditional experience.
If you have a few moments to look around the Lyonshall Nurseries site!
We would like to welcome you very soon.