Cherry varieties & descriptions
Here are some Cherry varieties & their descriptions we stock.
Please be aware the list is not our availability. Please check with us first before making a long trip to us by contacting us here or phone us on 01544 340214
Eating a fresh cherry on a warm Summers day is heaven! The juicy sweet taste and just the best flavour is something that gives us great pleasure!
Cherries are easy to grow. We sell lots of different varieties in different forms. i.e. You can grow dwarf varieties on dwarfing rootstocks Gisela 5 or perhaps a standard garden variety grown on a Colt root stock. There are also fan trained versions as well.
Please find below our guide to the types we stock and the descriptions. We have also included a chart as guide to the rootstock the varieties can be grown on.
Root stock, simply means that the variety is grafted onto a sapling that is of known vigour. So for cherries there are 2 main types used for dwarfing plants, ie to stay small if grown in a container or where space is limited this is Gisela 5. For normal growth where there is room in garden or for training the multi purpose Colt rootstock is preferred.
Cherry Varieties
CELESTE
Large, sweet, dark red dessert variety. Naturally dwarf habit and trouble free. Self fertile. Ready in early July.
LAPINS CHEROKEE
Upright strong growing dessert variety. Large numbers of sweet, deep red, juicy fruit in late July. Self fertile.
MERTON GLORY
Good as an ornamental as well as fruit tree. Shapely compact trees with beautiful white blossom. Very large, sweet dessert fruit in early July.
MORELLO
Very hardy and reliable, with good disease resistance. Cooking variety. Large dark red fruit in late July. Self fertile.
PENNY
Recent introduction and now one of the best commercial varieties. Beautiful white flowers. Large firm black cherries that are sweet and juicy. Extends picking season as not ready until late August.
STELLA
Reliable heavy cropper. Large, sweet, juicy dark red fruit in late July. Self fertile but also a good pollinator for others.
SUMMER SUN
Hardy, ideal in colder more exposed areas. Compact self fertile trees. Fruit firm, dark red and said to have 'exquisite' flavour! Harvest in late July.
SUNBURST
Hardy variety from Canada. Large, sweet, dark red fruit with gorgeous flavour. Self fertile dessert variety ready in late July.
SWEETHEART
Dessert variety with firm, sweet, tasty fruit. Ripens unevenly so is useful for extending the picking season around late August. Self fertile and a good pollinator for other varieties.
CHERRY VARIETIES AND ROOT STOCKS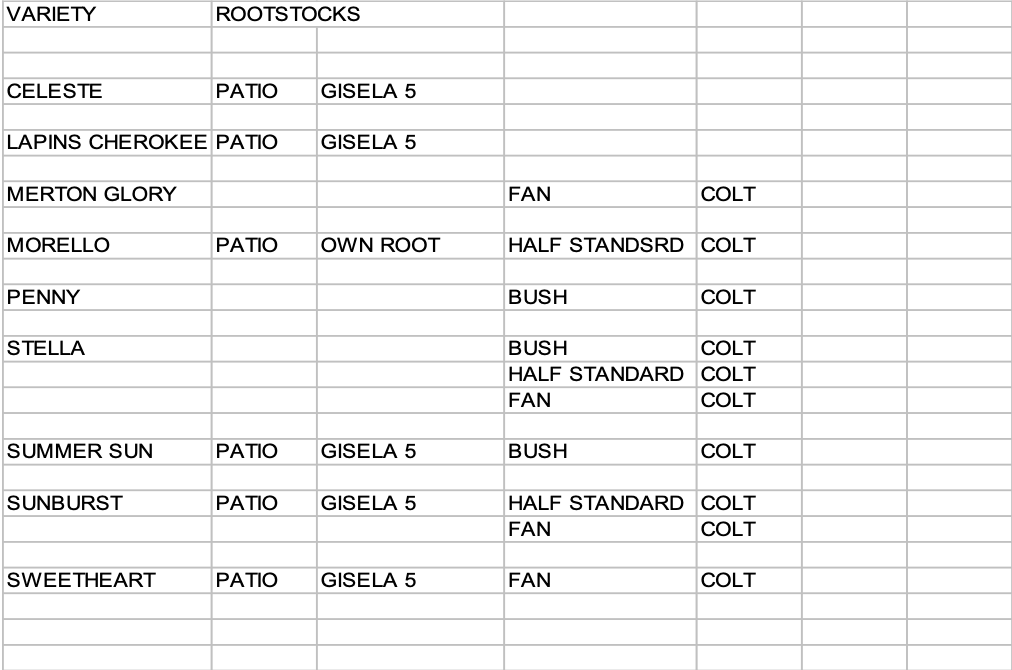 View more related categories in this group