Liquid Azalea Feed 1ltr
Liquid Azalea Feed 1ltr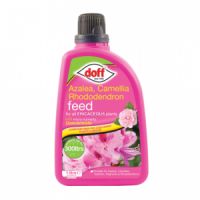 Concentrated feed for acid loving plants of all types like Azaleas, Camellias, Heathers, Magnolias and Rhododendrons and other lime-hating plants. It can be used as a tonic preventing the yellowing of leaves caused by lack of iron. Regular application to acid loving plants in Lime, Chalk and Alkaline soil will improve growth. This 1 litre bottle of concentrated fertiliser with added seaweed and magnesium will make up to 300 litres of feed.
Information about deliveries comes here
Enquiries
Do you want to learn more about this product or do you want to have more information about our delivery service? Complete the form below and we''ll come back to you as soon as possible. We store your data securely according to our privacy policy.
Write a review about "Liquid Azalea Feed 1ltr"
We want to know your opinion! Write a review about the product "Liquid Azalea Feed 1ltr" and win a National Gardening Gift Voucher of £25 !