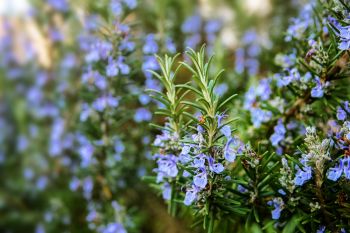 Our scent is one of the most evocative senses we have. Just a hint of fragrance can transport us back to a memorable summer, a special holiday or a beloved childhood garden. Whether your garden is big or small, adding a few scented plants allows you to revive old memories and create beautiful new ones.
Best scented herbs to plant
As well as adding flavour to our favourite dishes, herbs are some of the best plants for scent. There are so many, it's hard to choose between them, but these three are an excellent place to start:
Lavender – one of the most popular and well-known scented plants, with beautiful purple flowers that bees love as much as we do. Grow it in a sunny spot, in well-drained soil. Dwarf lavenders like 'Munstead' and 'Imperial Gem' are perfect for pots.
Rosemary – plant this tasty cooking herb next to a sunny bench so that you can sit and appreciate the wafts of scent in summer.
Mint – Plant mint in a pot to keep it from spreading out of control, and pinch a leaf when you pass, crushing it to release its delicious fresh fragrance.
Scented plants for small spaces
Scented plants have double the impact in small gardens, where walls and fences enclose the fragrance, making it more intense. You're closer to the plants in a small garden too, so it's easier to appreciate their perfume. Here are three compact plants to try:
Dwarf sweet peas – ideal for pots, dwarf sweet peas have beautifully scented flowers, and cutting them for vases will encourage the plants to produce more.
Scented petunias – if you only have space for one pot or hanging basket, fill it with scented petunias for fragrance and flowers all summer long. Not all petunias are scented, so check the plant details before you buy.
Daffodils – for a welcome waft of fragrance in spring, plant scented daffodils in pots or borders near the house. Narcissus ' Yellow Cheerfulness' and Narcissus 'Bridal Crown' are just two of several scented daffodil varieties available.
Scented plants for shady gardens
Shade-loving scented plants can take you by surprise, with unassuming flowers that produce the most sensational scents. Here are three of our favourites:
Sweet box (Sarcococca confusa) – in the depths of winter, this evergreen shrub has tiny white flowers with an incredibly sweet scent. Plant it near a path or a doorway to appreciate the fragrance as you pass.
Lily of the valley (Convallaria majalis) – the fresh green leaves make good groundcover for shady areas, with sprays of fragrant white flowers in spring.
Honeysuckle 'Serotina' (Lonicera periclymenum) – this vigorous climber grows well in dappled shade, producing pink-and-cream scented flowers in late summer. Bees love the flowers.
Scented plants bring a garden to life, and we have a fantastic range of shrubs, perennials and bulbs to suit every space. Visit us to find the perfect scented plants for your garden.