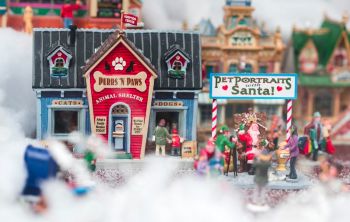 Why not build your own Christmas village in your home for a great display of festive fun. There are so many options to create a wonderful scene which you can personalise and make your own. From mini houses to cotton wool snow, our tips will help you get started to create your own snowy village scene at home to admire and get you in the festive spirit.
Start to build your own Christmas village with the right surface
The most important decision to start with is where will you place your Christmas village. Once you have built it, it will need to stay in its position over the festive season, so make sure the space you have suits your plans. It could be a level surface or a cupboard underneath the shelves where you can build your village on numerous levels.
Houses and structures are needed to build your own Christmas village
Use books to build different heights for your houses to sit on.
Think about alpine houses up snowy mountains and how they are all situated at various levels.

Also, decide on your theme and if you would like other bigger structures in your Christmas village.

Perhaps you have a seaside vision and will need a lighthouse, but whatever theme you choose, you'll need a Christmas tree!
Build your own Christmas village and light it up
When you have set out your scene with houses, accessories and lights and you are happy with the levels and where everything is placed, it is time to add some lights. Use Christmas lights to light up the homes and streets in your scene.
Don't forget the snow when you build your own Christmas village
Setting the scene is all about the snow. Now you have your houses and lights the village should be coming together nicely and giving you a fun, festive vibe. You can use many different materials to give the appearance of snow from cotton wool, to cotton drapes and blanket rolls.
People are essential to building your own Christmas village
When you have everything ready, the finishing touches will include mini people who will simply bring the whole scene to life. People going about their Christmas shopping, ice skating, being with family. Pop them around your houses and walking in the snow and you will have your very own perfect Christmas village to enjoy.
Pop in some foliage from our perfect winter plants and pick some up in store.