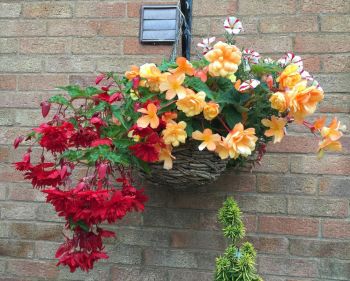 Planting a hanging basket is a quick and easy way to add instant colour to patios, balconies and any other outdoor space that needs brightening up. Many of the most popular plants for hanging baskets will flower for months on end, and they're effortless to care for. Here are five of our favourite plants for hanging baskets.
Top 5 plants for hanging baskets
Brighten up your outdoor space with colourful hanging baskets. At our garden centre in Kington, we have several hanging pots, hanging baskets, and planters filled with summer-blooming plants. Please choose from our wide assortment and hang up a hanging basket at your front door, pergola, trellis or wall. It's fun to make hanging baskets yourself, too. We have all supplies you need. Find out which flowers are best for hanging baskets and visit our garden centre for the most colourful species.
1. Trailing geraniums
Trailing geraniums look fabulous in hanging baskets, with stems bearing clusters of flowers in vivid colours. As well as the ever-popular red geraniums, there are also gorgeous pink, white and even bicolour varieties. Trailing geraniums like a sunny position, and they're reasonably drought resistant, so they will cope if you forget to water them for a few days. Deadhead any faded flowers, and feed them fortnightly with a high–potash feed (tomato feed is ideal). Geraniums will flower from early summer until the first frosts.
2. Trailing petunias
Petunias are the classic choice for hanging baskets. They come in an amazing array of colours, with single or double flowers. New varieties like the Surfinia range of petunias have been bred to stand up well to wet weather, and others, like the Thumbelina range, are deliciously fragrant. Petunias prefer a sunny position, with regular watering and a fortnightly feed with a high potash liquid feed. Deadhead faded flowers regularly to keep them flowering through summer until the first frosts.
3. Fuchsias
If you have a shady spot that needs a bit of colour, a hanging basket planted with fuchsias is the answer. With their exotic-looking, colourful flowers on gracefully arching stems, trailing fuchsias spill elegantly over the edge of a hanging basket, adding a touch of glamour wherever they are. They grow in sun or light shade, flowering right through summer and early autumn. Water regularly and feed fortnightly with a high potash feed to keep the flowers coming.
4. Begonias
Begonias are a fabulous splash of colour in hanging baskets, with big, blowsy blooms in a range of colours from soft pink and cream to vivid scarlet and orange. Dark-leaved begonias add extra interest, their striking foliage making the perfect foil for the colourful flowers. Begonias are happy in light shade and can also be grown in the sun. Water them regularly, feed fortnightly, and deadhead faded blooms.
5. Filler plants
Every hanging basket needs a few filler plants to act as a backdrop for the beautiful flowers and creating a cloud effect.
Creeping Jenny (Lysimachia nummularia) is one of the best, with trailing stems and rounded lime-green trailing leaves that add texture and softness to planting. This attractive foliage plant grows well in the sun or light shade.
Bacopa is another useful filler plant, with thin stems covered in masses of tiny blue or white flowers. It does best in full sun, with regular watering.
Try Cordyline or Helichrysum for lovely rounded foliage and hide the bare stems of other plants.
If your patio needs a boost this summer, visit our centre, where you'll find a fantastic range of plants, hanging baskets and containers to add instant colour to any outdoor space.