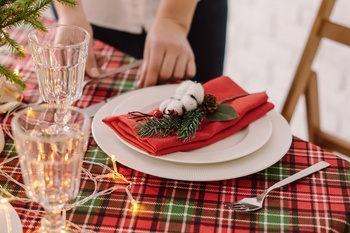 Are you wondering how to decorate the Christmas table with natural materials? Using items found in the garden is perfect for personalising your home with nature as the theme. Table decorations can be made from numerous materials such as pine cones and fallen bark to fir tree foliage and perennial seed heads. Here are some ideas for you to decorate with.
Wooden place names
Christmassy pine cones
Fir and berry garland
Eucalyptus and candles
Orange pomander balls
1. Use wooden place names to decorate the Christmas table with natural materials
A lovely touch for the Christmas table is to use thinly cut branches decorated with a slight festive decoration or the place name, so your guests all know where to sit. Alternatively, use them to tie onto napkins as part of a natural theme.
2. Decorate the Christmas table with natural materials such as pine cones
Pine cones are the classic natural Christmas decoration and can be used to fill up vases with fairy lights, laid on the table to add to the natural theme, included in wreaths or garlands and any other fun festive way you can use them. We love the idea of filling a vase about two thirds full, then laying small fir sprigs on top and placing an imitation candle on top.
3. Make a fir and berry garland to decorate the Christmas table with natural decorations
Collecting fir branches and sprigs, pine cones and other garden materials to create your table garland to run along the centre is fun, creative and will look fantastic. If you don't have those materials available to you, they will be available to purchase as well. They can also be placed in vases with pine cones hanging off for an alternative festive display.
4. Decorate the Christmas table with natural materials using fragrant Eucalyptus
Using the lovely foliage of Eucalyptus is a beautiful way to add a silvery touch to the Christmas table. If you gently crush the leaves, the scent will also waft around as well. Lay springs along the centre of the table, along with some candles, pine cones and silverware. This will make your table look stylish and classy to enjoy for your Christmas meal.
5. Orange pomander balls are a great way to decorate the Christmas table with natural materials
Using oranges and cloves not only provides a lovely scent but a very traditional Christmas look. Punch holes in the orange peel with clove in lines or patterns and add some red ribbon to finish the pomander balls. Place them on the mantlepiece and as decorations on the table where all of your guests will admire your homemade natural Christmas decorations.
Add a touch of homemade Christmas with plants and natural materials when you visit us in the store.