Wooden Benches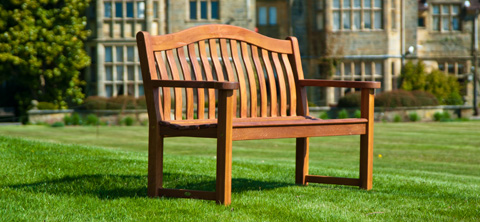 You will find quality 2 or 3 seater benches in various styles and in different woods.
We stock our full range of wooden benches all 12 months of the year.
March 2021 Update
For upto date prices & range look at our webshop pages here
Ideal for outdoor use. Most are made from FSC wood. This means that the wood is harvested from regulated plantations & the areas are replanted.
The following benches are availabe ready made or flat pack and are in stock.
If you prefer the bench delivered - no problem. However, there may be a small charge for assembly & delivery.
We can get benches engraved to your wishes.
Turnberry 4ft Roble

Farmers Market high back
5ft Pine
The type of wood the benches are made from will make a difference in the longevity, quality & price.
Roble
Our Roble benches are supplied by Alexander Rose. Here is their description of Roble wood (a better alternative to teak).
'A Superior sustainable wood.In 2011 we introduced our comprehensive collection of sustainable FSC Roble hardwood, grown in Eastern Bolivia. With over five million acres of FSC certified forest under management, Bolivia is the world's leader in sustainable management of natural tropical forest. Within the Chiquitania Forest Reserve our Roble supplies come from our parent company's estate of two million acres.Because of the nature of tropical dry forest, the trees grow very slowly. Consequently, some of the world's strongest and most durable woods come from the Chiquitania Forest including Roble which is incredibly strong and dense, with very high durability. It is a light coloured wood when new, until the sun gracefully transforms it to a mature, elegant silver patina.'
Teak
We use plantation teak on the Oxford, San Diego & Lutyen benches.
'Teak furniture can remain outdoors in any climate year round, and can be left unfinished or protected. Plantation teak wood can be considered eco-friendly due to its long life expectancies. To ensure the reduction of impact teak furniture has to the environment, many forestry companies produce sustainably managed plantation teak.
Cornis
This is a type of quality durable hardwood of eucalyptus. Both Broadfield & Turnberry are made from this.Here is the description from Alexander Rose.
'The Perfect fit for any garden.With all the looks and build quality you would expect of an Alexander Rose product, our Cornis collection is the perfect addition to any garden, no matter where you live or your budget constraints. We appreciate that every garden is individual in shape, style and size so we have made some of our most popular designs in less expensive and equally sustainable materials. The very straight and almost knot-free grain of Cornis timber makes it the perfect choice for garden furniture.'
Pine
A reliable softwood. The Popular Farmers High Back bench is made from this type of wood. The description from Alexander Rose follows.
'A true all-rounder.Our simple softwood timber range brings a rustic feel to your garden. Specially treated to make it suitable for outdoor use, our famous picnic table designs and reassuringly chunky Farmer's Collection - with distinctive, shot-blasted finish on the Farmhouse Rustic Table - are solid, traditional pieces that will age beautifully.'
View more related categories in this group