Real Christmas trees

AVAILABLE NOW - Buy early to get the best choice!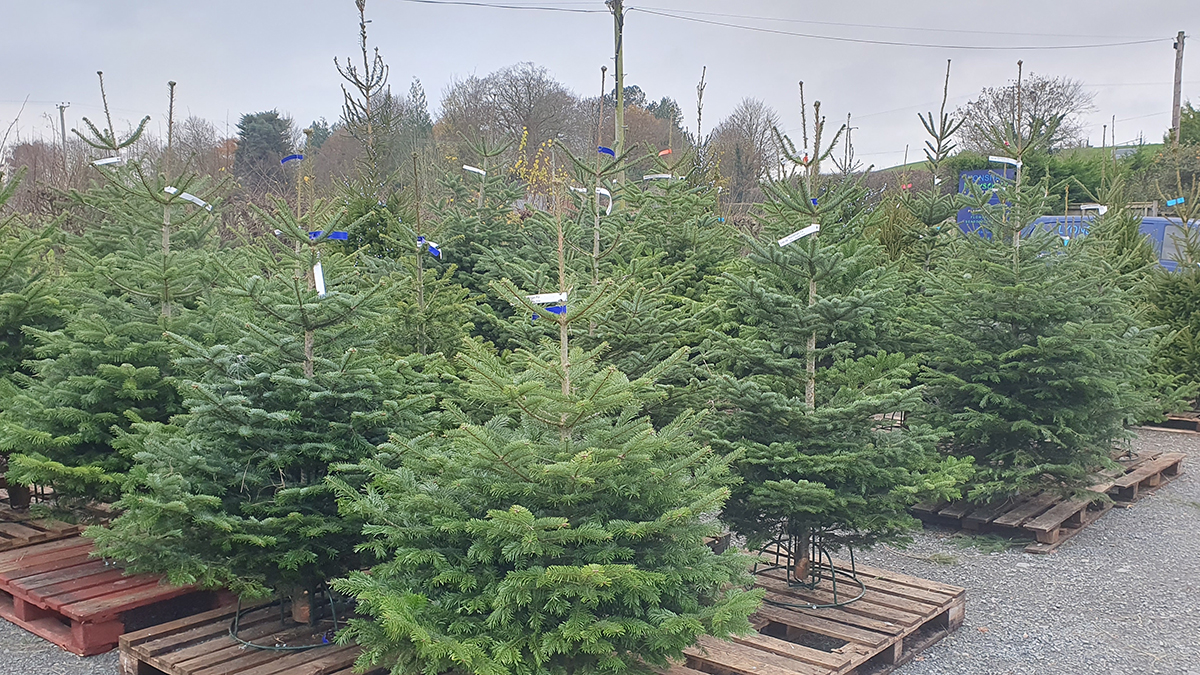 We buy all our fresh Christmas trees from an established local grower to the Kington area. The Norway Spruce trees you see for sale will most likely have been growing in a local field only a couple of days before. This means that not only are you getting the freshest tree possible, you are also supporting another local rural business. This year we are selling our trees outside in the car park to allow the space that guarantees everyone can stay safe. We always sell our trees un-netted to allow you to see them naturally, so once you've made your choice we will net it (with recyclable netting) and carry it to your car. We can deliver locally if you really can't come to us, or if your choice of tree just won't fit your choice of car.
We will understand if you do not want to go right into the shop, but if you do you will discover that we have lots of Christmas Tree Stands and decorations along with our usual range of plants and gardening goods.
Nordman Firs are wonderful dense dark green trees that do not drop their needles. They give you plenty of space to display all your lovely decorations and a nice wide base for your presents to accumulate ready for the big day! We have a range of sizes available from 1 - 2.5m (3 -7ft)
Noble Fir are

bluey-green, slightly silvery needles with a beautiful scent and short stiff branches. Beautifully simple!

Norway Spruce is the traditional tree with a lovely conical shape, plenty of horizontal branches for your decorations and a real 'piney' smell. It's happiest in a cooler spot with a tree stand into which you can add water to keep it fresh. You can either have a cut one or a potted one, which will often survive for subsequent years. Sizes and shapes are available to suit all situations and budgets, with prices starting at £15.
Potted Trees - We have sustainability in mind and have a very good range of container grown trees suitable for Christmas. All sizes - All types & all types of price to suit your budget.
To get your perfect tree, buy early to get the best choice. Store your prize outside – it won't mind getting cold or wet. When you want to bring it indoors, take the net off the day before to allow it to dry out and 'relax' the branches down ready to decorate.
Your cut tree will look and survive better in a proper stand. It will be stable, safe and beautiful. Fill the water reservoir regularly – remember it's a living thing, so like a bunch of flowers it needs water.
Site your tree away from radiators or wood burners. It will last a lot longer in a cooler spot.
Don't leave lights on when you're not around and never ever use real candles on or near your tree. Especially if you have young children and pets!
When it's all over, take your redundant tree to your local council recycling centre for disposal. They will shred and compost it and turn it into garden compost ready for another growing season.
View more categories in the category Christmas