Tomato
The Tomato.
Ready now
Shirley, Moneymaker, Gardners Delight, Sakura, Sweet Aperitif, Sungold, Honeymoon, Buffalo Sun & Nagina ready now
Good news is we have plenty growing on! Ready soon
The tomato needs no introduction. It's a favourite for everyone. What better than eating the fruits of your labour straight off the vine. It could be a sweet cherry tomato warmed by the sun. The big juicy steak tomato or one for that perfect salad. The unforgettable pasta sauce, chutneys, soups & other winter warmers & so on.

The tomato you have to admit, is versatile. It is fortunate that the vitamin rich nutritious super food is easy to grow. No matter how much space or experience there is a variety & type to suit everyone.
At Lyonshall Nurseries we grow all our tomato plants. We have them available from late March until the end of May.
It can be mind blowing in how many varieties there are. We grow the best & most reliable varieties. We have the early glasshouse (indoor) types, Shirley is a big favourite. The reliable, high yielding varieties such as Money Maker. Cherry types such as Sakura & Gardeners Delight. Some of these types can also be grown outdoors later on. Alicante, MegaByte & St Pierre are good ones to try. Not forgetting the ever increasing new varieties for growing in tubs & baskets, such as Red Profusion, Tumbler, Tumbling Tom & Divinity. I have put together some info on growing tomatoes successfully - here. If you are interested please take a look.
I will list the varieties we have for 2023 & the type & sizes of the tomato and plant.
Vine or Cordon (Interdeterminate) types.
Normal size fruits
Shirley F1
Moneymaker
Alicante
Pannovy
Akron F1
Golden Sunrise

Cherry size fruits
Sweet Aperitif
Rapunzel F1
Sweet Million F1
Gardeners Delight
Sungold F1
Honeycomb - improved Sungold
Cherry Baby
Shimmer
Rosella
Sakura
Golden Crown - voted best yellow tomato N/A seed failure
Sweet 100 F1
Suncherry Premium F1
Sugargloss
Black Opal
Plum types
Nagina F1 - (New vine type of plum - excellent during trial last year)
Roma
Beefsteak size
Buffalo Sun - Big American style
Brandy Boy
Supersteak
Honeymoon - large salad type
BUSH TYPES
Bush larger fruits
MegaByte F1

Bush cherry size fruit
Divinity
Summerlast
Totem Red F1
Topsy Tom F1

Basket or semi-trailing types
Tumbling Tom Red
Tumbling Tom Yellow
Red Profusion F1
Cherry Falls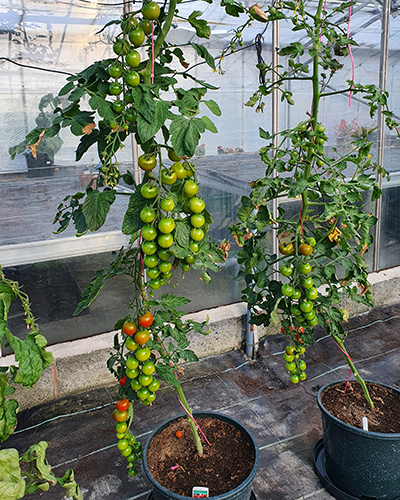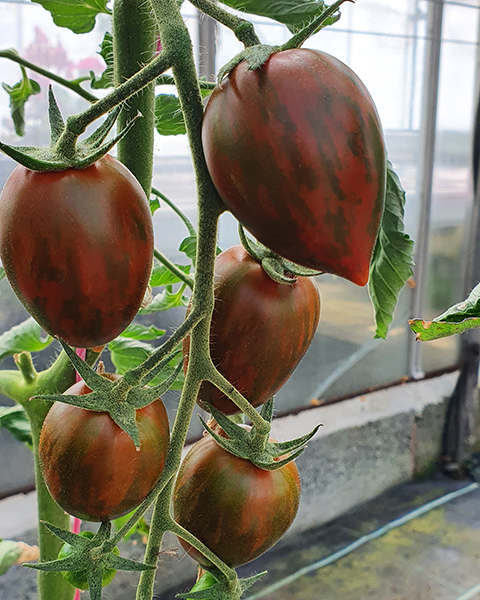 Tomato 'Sakura' cherry type Tomato 'Shimmer'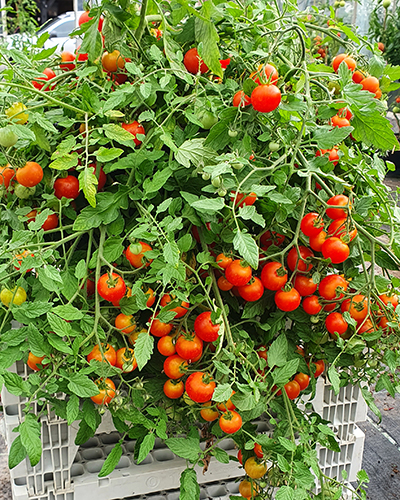 Tomato 'Red Profusion' basket or container variety Tomato 'Nagina' vine plum type
Descriptions & Images to follow very soon.

View more categories in the category Vegetables